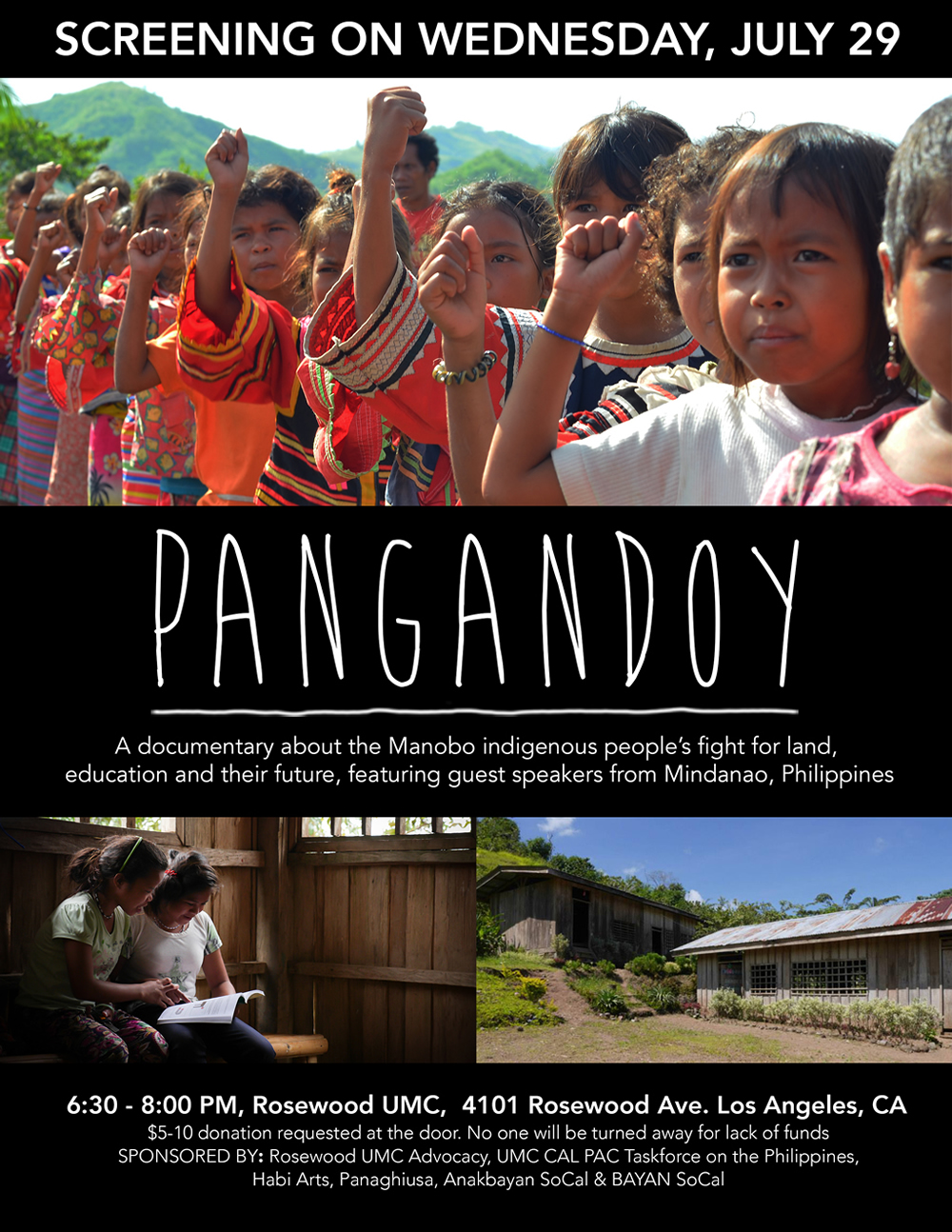 "Pangandoy: The Manobo Fight for Land, Education, and Their Future" is an inspiring short film by Hiyas Saturay during her trip to Mindanao Philippines working with the indigenous people of Mindanao and their struggle to access their schools and ancestral land.
Rosewood United Methodist Church
4101 Rosewood Ave
Los Angeles, California 90004
Wednesday, July 29, 2015, 6:30 PM – 8:00 PM
Suggested Donation: $5 (no one turned away for lack of funds, come join the film screening)
Trailer: https://bit.ly/1JykOCj
The film is a product of her three-month stay with the Talaingod Manobos (indigenous people from Mindanao) to learn about their history, culture, and struggle for education. We will be hosting local screenings in the LA area and on various college campuses.
Special Guest Speakers
Vennel Francis Chenfoo
Vennel is a youth activist serving as the Deputy Secretary General of BALSA Lanao, a citizen-led response to Typhoon Sendong and Typhoon Pablo and advocacy for climate justice. He is involved in environmental campaigns and indigenous peoples' rights as the Secretary General of Panalipdan Youth-Northern Mindanao.
Ms. Amirah Ali Lidasan
Amirah is a Muslim woman leader based in Mindanao and National President of Suara Bangsamoro (Voice of the Moro People). She attended the International People's Tribunal in Washington D.C. this summer and will discuss the Mamasapano incident, Bangsamoro Basic Law, and the overall human rights situation for indigenous Moro people in the Philippines.
Sister Ma. Famita Somogod
Sister Famita Somogod is a Catholic nun and coordinator of the Rural Missionaries of the Philippines-Northern Mindanao Region (RMP-NMR). She a co-convenor of the Save Our Schools (SOS) Campaign, to advocate for indigenous community-based schools that provide free education to underserved areas in Southern Mindanao, Philippines.
About the Director
Hiyasmin Saturay is 24-year-old artist and filmmaker born and raised in the Philippines. Her family was forced to move to the Netherlands as refugees when the Philippine military targeted her family for organizing against a mining company trying to gain access to their island of Mindoro. She has a Bachelor of Arts degree in Human Ecology from the College of the Atlantic in Bar Harbor, Maine. She resides in Long Beach, California and is a member of Habi Arts, an LA-based organization of Filipino artists fighting for national democracy in the Philippines. Her recent film, "Pangandoy: The Manobo Fight for Land, Education and Their Future," was a product of her three-month stay with the Talaingod Manobos to learn about their struggle and resistance.