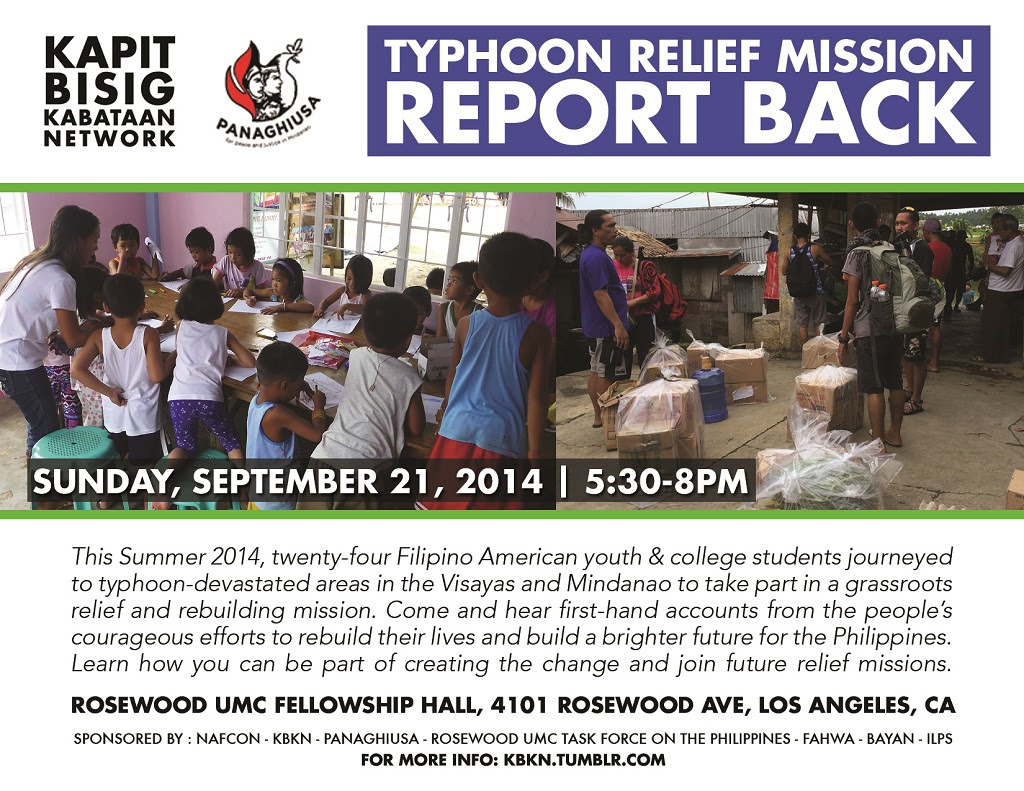 Our report back is coming up on the 42th anniversary of the declaration of Martial Law in the Philippines and we have much to share about the people's determination to overcome both man-made and natural disasters. Please come and spread the word!
On August 2-9, 2014, over 30 people from the USA joined the National America-Philippines Solidarity Affair (NAPSA) and Rehabilitation Mission in Southern Mindanao, Philippines. The NAPSA 2014 was initiated by Panaghiusa ("Unity") and joined on by the youth of the Kapit Bisig Kabataan Network (KBKN).
On September 21, 2014, we invite you to join us as the participants of the mission share their personal experiences, thoughts and aspirations of the people who have been devastated by a series of typhoons resulting from decades of unmitigated environmental plunder.
Sunday, September 21, 2014
Rosewood United Methodist Church
4101 Rosewood Ave (off N Vermont Ave)
Los Angeles, CA 90004
In the Fellowship Hall
Doors open at 5:30 PM
Program starts at 6:30 PM and ends at 8 PM
Free parking available on N Berendo St.
Light refreshments will be served
Hosted by Rosewood United Methodist Church Advocacy Ministry
Sponsored by: National Alliance for Filipino Concerns (NAFCON), KBKN, Panaghiusa, Rosewood UMC Task Force on the Philippines, Filipino-American Health Workers Association (FAHWA), BAYAN USA SoCal, International Action Center, Union of Progressive Iranians, International League of People's Struggle, and Union del Barrio